Our Female Bengal Cats
Shania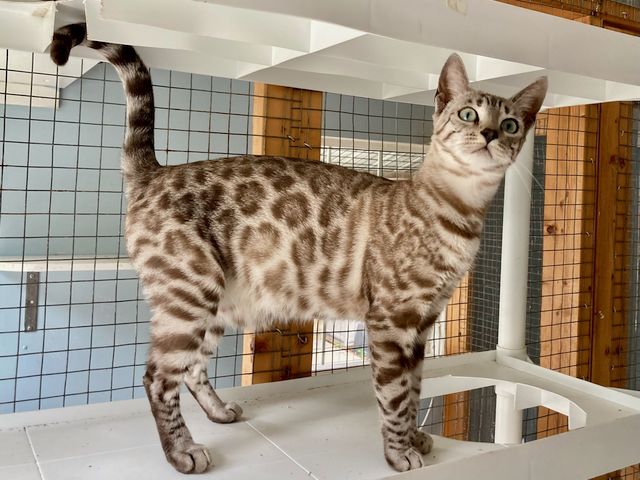 Pedigree
QueenCityBengal Shania
Seal Silver Mink
11/19/2022
Sire: Benalex Flying Colors
Dam: BobsDen Pearl
Grandfathers: Benalex Black Jack and Corsicana Inx
Grandmothers: Benalex Crystal Baby and Zimbabwe Clouded Zuri
---
Mayhem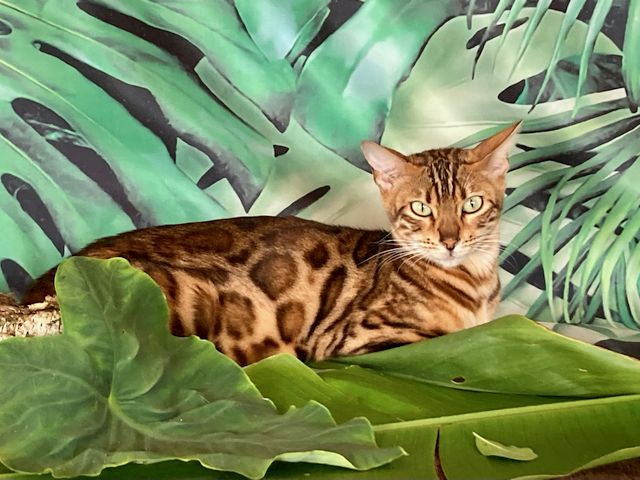 Pedigree
QueenCityBengal Mayhem
Brown Rosetted
DOB: 06/20/2022
Sire: QueenCityBengal Oz
Dam: QueenCityBengal Rose
Grandfathers: Corsicana Inx and BobsDen Conway
Grandmothers: QueenCityBengals Reba and Mangosteen Sonata
---
Pearl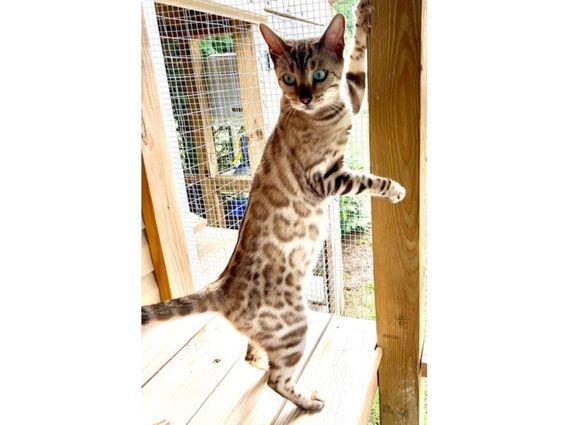 Pedigree
BobsDen Pearl of Queen City Bengal
Seal Mink Rosetted
DOB: 05/12/2021
Dam: Mrk Zimbabwe Clouded Zuri
Sire: : Corsicana Inx of Warpaint
Grandfathers: (S Xanadudream Titan Got Game of Mrk) and (Palnihills Alain)
Grandmothers: (D Bellarista Sugar Cookie of Mrk) and (Myanmar Michelle)
---
Marilyn – Retired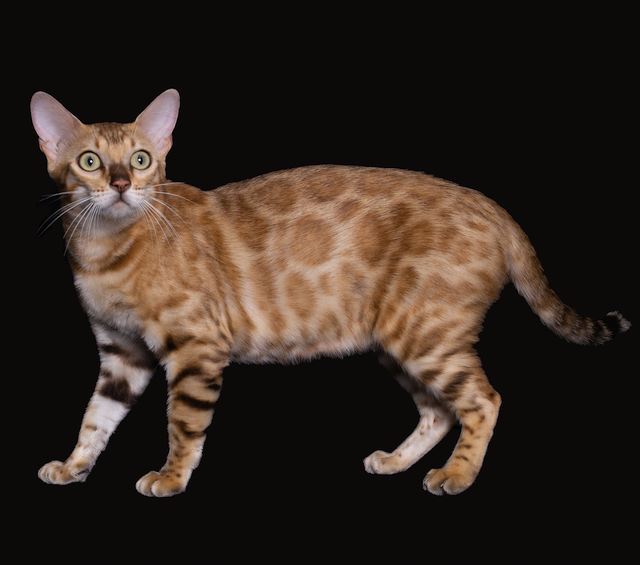 Pedigree
Queen City Bengals Marilyn
Brown Rosetted
DOB: 02/09/2020
Sire: (Corsicana Inxs of Warpaint) X (Mangosteen Sonata of Warpaint)
Grandfathers: (Kanpur Zankar) and (Palnihills Alain)
Grandmothers: (Mangosteen Argentina) and (Myanmar Michelle)
---
Reba- Retired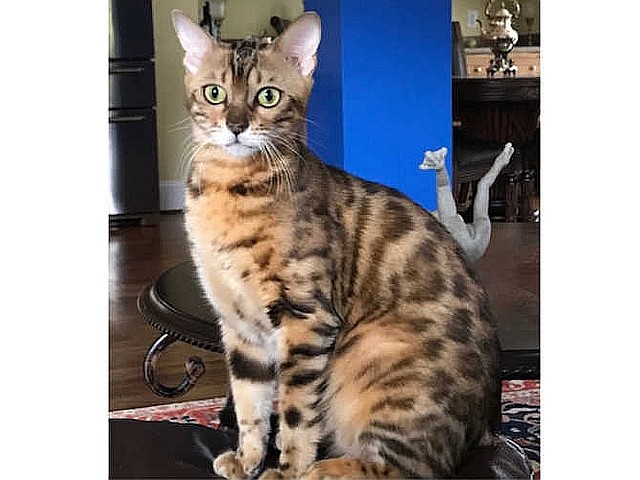 Reba has large brown and chocolate rosettes, a light cinnamon background color, very bright yellowish-green eyes, a very playful personality, and an enormous amount of glitter in her thick silky pelt. She has been a great mother.
Pedigree
Queen City Bengals Reba
Brown Rosetted
DOB: 04/18/2017
Sire: (NCBengalExotics Stihl of Alliekatz) X NCBengalExotics Sky Angle)
Grandfathers: (Merikats Axle of NCBengalExotics) and (Merikats Axle of NCBengalExotics)
Grandmothers: (NCBengalExotics Pippa) and (Dancing Queen)
---
Rosie (Retired)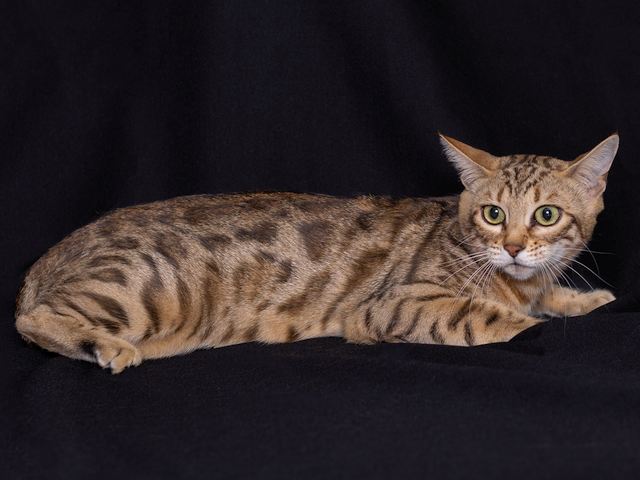 Pedigree
Queen City Rose AKA "Rosie"
Brown Rosetted
DOB: 02/17/2019
Sire: (BobsDen Conway)
Dam: (Queen City Reba)
Grandfathers: (Skah of BobsDen) and (NC Bengal Exotics Stihl of Alliekatz)
Grandmothers: (BobsDen Tiva) and (NC Bengals Exotics Sky Angel)
---
Sophie (Crossed the Rainbow Bridge)
Pedigree
Mangosteen Sonata (Imported from Russia) AKA "Sophie"
Brown Rosetted
DOB: 03/22/2016
Sire: (Kanpur Zankar)
Dam: (Mangosteen Argentina)
Grandfathers: (Bengalivo Without Words of Kanpur) and (Pearls Twinkle Sherbet)
Grandmothers: (Praslins Pure Gold) and (Beauty Grandsauvage)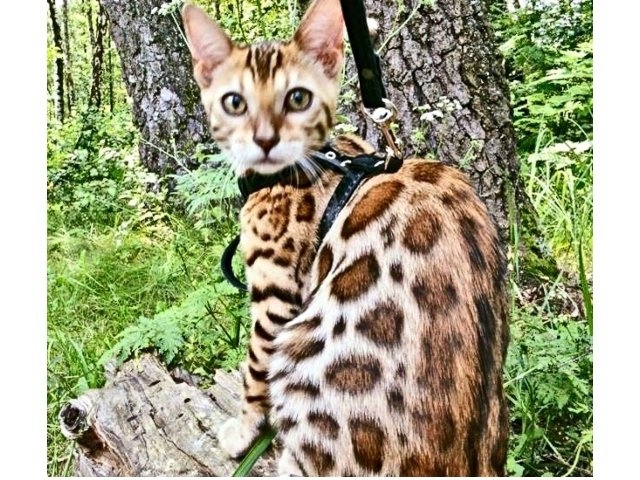 ---
Dottie (Retired)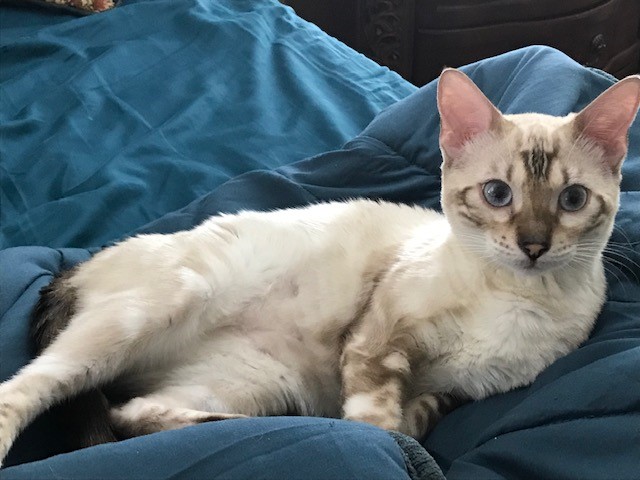 Pedigree
BobsDen Dottie
Marbled Seal Lynx Point
DOB: 1/6/2019
Sire: (Warpaint Teetonka of Bobsden) X Dam: (BobsDen Kachina)
Grandfathers: (Corsicana Inx of Warpaint) and (Gogees Flashdaze of BobsDen)
Grandmothers: (MRK Zimbabwe Clouded Zuri) and (BobsDen Tiva)
---
If you are interested in one of our kittens, please call us at 704-363-8960 or use our online contact form.